Used John Deere 640D Draper Front for Sale
This current model 'Hydra float',  used John Deere harvester front has:
low hours (Cutter bar shows very little signs of wear)
a new John Deere harvester front frame
and will withstand the most rigorous inspection
This has now been sold. 
Background
This John Deere front was damaged after hitting a stump during harvesting operations.  After acquiring the harvester front, we commence repairing the front.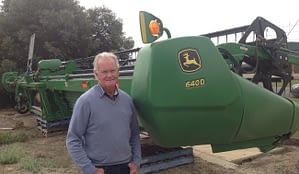 What We Did
We replaced the header frame with
a brand new John Deere frame
a new  Draper carrier deck
all details, paint colour schemes and John Deere decals
Value
This 640D John Deere header front is a very popular model.  At just over half the cost of a brand new John Deere harvester front, this front represents outstanding value to grain farmers and contract harvesters alike.
Call Header Front Repairs
Call John Ward on 0418 525 942 or click here to go to our contact us page