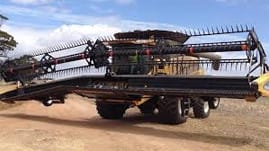 Header Front Crash Happens then…
"Who moved the bloody ute?"… 
… or was it the field bin, auger, gate post, stump, volcanic rock just to name a few of the reasons farmers and contractors reach out to Header Front Repairs for help
When the grain harvest season is in full swing, contractors and farmers work long hours into the night to beat the next rain front and put the season to bed.
Its usually during this time, late into the night, when fields bins are moved, utes are shifted and darkness conspires to make it difficult to see where all the obstacles lie.
Grain harvest operators are flat out getting crop off, monitoring instruments, GPS technology, sample capacity as well as and keeping tabs on vehicles and at times dealing with changes in the terrain, especially in volcanic regions, that keeps the pressure on.
Then bang!
"Who moved the bloody ute!!!" is the cry.
This is when most farmers and contractors (who use Header Front Repairs) turn to Google on their smart phone.
Typing in 'Header Front Repair' or 'Harvester Front Repair' will reveal search results for Header Front Repairs in Swan Hill.
Usually farmers and contract harvesters review all the videos and case studies published from our website, which are found in Google, on the brand types and models of header fronts they have repaired before calling John Ward.
"Knowing that we are a specialist service provider is appealing to most farmers and contractors as it means that repair jobs are done quicker and end up leaving the workshop operating as intended" says John Ward, owner of Header Front Repairs in Swan Hill.
Typically, most farmers and contract harvester owners have difficulty telling that their front has been repaired when it leaves the workshop.
"Getting owners back out in the field quickly, providing great value, excellent service and most importantly, a quality repair job is paramount to our business. This is how we grow" says John.
As a third generation grain farmer who completed his first harvest in 1953, John can share a few stories about field bins and utes that have caused some grief and despair.