About John Ward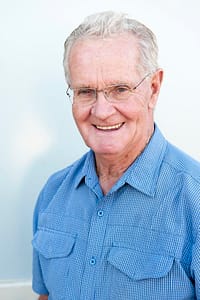 John Ward is grain farmer of 55 years at Woorinen South, 10 km's west of Swan Hill. His grand father first settled this property in 1893.
John's experience in Australian agriculture dates back prior to the floods of 1956 and he has experienced the boom and bust, drought and flood cycles that the industry brings and has survived to tell the tale.
Throughout that time, he has been a vocal advocate for Australian farming with involvement in the Grain Elevators Board, mentoring at Marcus Oldham Collage, and chairmanship of the Victorian Silo Committee organisation to name a few.
During the 1990's he led Grizzly Engineering through a restructuring and reorganisation process that led to profitability, stability and first time export sales.
His deep understanding of the issues facing grain farmers helps John provide the type of results and certainty his clients need when repairing their header fronts.
John bought Header Front Repairs, formerly Murphy Engineering, in 2011. He could see that farmers were getting less service options to run their business as industry consolidation took hold. He is excited to be back in the engineering game.
Header Front Repairs has embraced the digital age by investing in YouTube videos, company website and blogging to help connect with a new generation of Australian farmers. Type 'header front repairs' into Google and see the #1 result!
By focussing on excellent results and outstanding customer service for clients, John plans to help more grain farmers by meeting and introducing himself as an exhibitor at Field Days such as the  Wimmera Mallee, Speed, and Henty  Field days.
John is a member of and also a guest speaker at the Australian Contract Harvesters Association annual conference in 2014 and 2015.
Give him a call on 0418 525 942